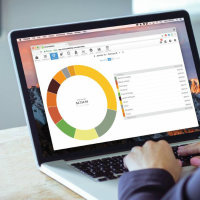 Finance Works
This financial management solution provides consumers a more complete and easy way to budget, gain control over their spending,and save more. Just login in to online banking and click on the FinanceWorks links to get started. FinanceWorks is a free service for all our members!
Summary

Connect to over 18,000 financial institutions and creditors.

Checking, savings, loans and credit cards …you can see them all here with just one login, even if they're at other financial institutions.

Know where you are spending your money

FinanceWorks automatically categorizes your transactions from your accounts so you can control spending more easily, stay on budget, and save more.

See your net worth.

Track your overall net worth, including physical assets such as your house, cars, gold, etc. to get a better picture of your overall financial health.

Get organized at tax time.

Tax Watch report automatically tracks tax deductible expenses such as child care and charitable contributions.

Make your finances come to you.

Alerts and reminders help you track your budgets, pay bills on time, and get timely updates about your accounts.