November Newsletter
First Community Credit Union Raises $1,500 and Nearly 3,000 items for Hope Lodge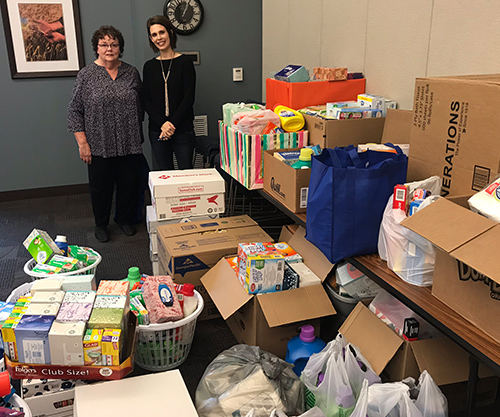 FCCU recently held fundraisers in support of its third quarter charity, the Sandra J. Schulze American Cancer Society Hope Lodge. Employees of FCCU chose a different organization each quarter to support by raising money and awareness.
FCCU raised $1,500 and collected nearly 3,000 items. Items donated ranged from Kleenexes and Zip Lock bags to saran wrap, aluminum foil, laundry detergent, dryer sheets and gas gift cards. All of these items are used to ease the burden for residents and families that are required to stay at Hope Lodge.
In an effort to raise more funds and drive more supplies for Hope Lodge, if each market region met their supply goal, their Market Vice President would dye his hair pink or shave his beard. Fortunately, all goals were surpassed and FCCU's President, Chief Development Officer and Market Vice Presidents, dyed their hair pink or shaved their beard for charity, during FCCU's All Staff Training on October 8th.
"It can be very challenging when a loved one has cancer," said Justene Kouba, Community Engagement Specialist. "Thankfully, Hope Lodge helps to ease the pain these families go through and we are happy to support this life-changing organization."
Located in Rochester, MN, Hope Lodge offers private suites for the comfort of its guests and their caregiver. Fostering a home-like environment, the Hope Lodge is equipped with a community dining room, kitchen, family room, library and laundry facilities. The Lodge also offers guests a wide variety of cancer programs and services that provide information, resources and support.
A sincere thank you to everyone who helped us support this incredible organization.
---
FCCU Delivers Meals in honor of International Credit Union Day!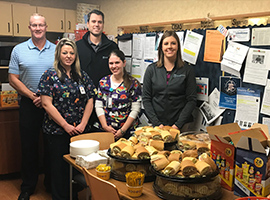 On October 18, 2018, credit union members around the world celebrated International Credit Union Day®, an annual event to commemorate the credit union movement's impact and achievements. In honor of this special day, First Community Credit Union gave back to local communities in a variety of ways.
For 70 years, International Credit Union Day has been celebrated annually on the third Thursday of October. With the theme of "Celebrate the Credit Union Difference" FCCU celebrate people helping people and individuals coming together to better our communities through serving lunch at Children's Miracle Network Hospitals, FCCU's 4th quarter charity.
FCCU staff in Bismarck served over 80 people, while FCCU Fargo staff served over
60 people at the state-of-the-art Sanford Children's Hospital in Fargo. PeeWee the Penguin also made a surprise appearance at the Fargo hospital to help put smiles on kids faces.
In addition, employees in several other towns delivered baked goodies, donuts and waters to other local businesses.
"We've been giving back and serving meals at the Sanford Children's Hospital's for several years now and each year it becomes more and more clear the importance of giving back to our local communities," says Laura Wickham, Fargo Retail Manager. "It was such a wonderful opportunity to carry out the theme of 'Celebrate the Credit Union Difference' that day and every day at First Community Credit Union."
CMNH is a network of hospitals that have been helping kids in need for over 30 years. FCCU's local hospital is Sanford Children's Hospital in Fargo. All of the funds raised through Credit Unions for Kids go to the local hospital, which pays for medical treatment while children are staying at the hospital, as well as life-saving research.
---
Upcoming Member's Choice Club Events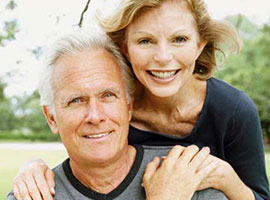 Join us for our upcoming events:
Napoleon - Pie & Ice Cream Social - Nov. 7 - 1:00 pm to 3:00 pm - FCCU Branch
Portland - Bingo - Nov. 8 - 2:00 pm - Portland Senior Center
Jamestown - Bingo - Nov. 15 - 1:00 pm - Senior Center
All Branches - Holiday Open House - Dec. 13 - Stop in for a Holiday Treat!
We have a special package of benefits for our members 55 years and up. Member's Choice Club is exclusively designed with a wide variety of perks and benefits including special gifts, events/tours, and account specials. If you are someone with a zest for life and would like to learn more about getting involved with Member's Choice Club contact your favorite FCCU representative today.
---
Branch feature – Larimore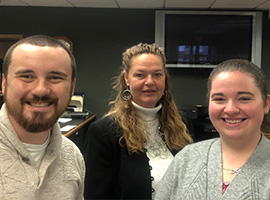 Greetings from the Larimore branch!
Our staff has been keeping busy in the community this fall, most recently helping serve at the big pancake feed for Community Appreciation Week. We also enjoyed helping and participating in the local fall dance, where community members dress up in their favorite costume. This event is most popular with the young kids!
Coming up Saturday, November 24 our branch will participate in Community Action Club's Holiday Open House by serving caramel rolls from 9:00 am to Noon. We invite everyone in the area to stop by our branch for a tasty treat and stay for the parade and holiday tree lighting that evening.
We're excited to announce Financial Services Officer, Dan Bryant has relocated to our branch. Be sure to stop by and see him for all your consumer loan needs or just to say hello!
We hope all our area farmers had a safe harvest this fall and we wish the best of luck to all our area students in their upcoming school activities!
---
Health and Finances? Is there a Connection?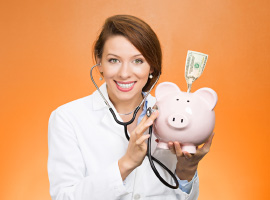 Research shows that financial and physical health are correlated. It's a well-known fact that financial stress can negatively impact physical health. People with higher debt often have higher blood pressure and poor physical and mental health.
On the other hand, those who are not in good physical health see a doctor more often and drive up their debt with medical bills and prescriptions – leading to other problems.
People who feel more confident about their financial state are more likely to pursue healthy lifestyles. So, what can you do to obtain a financially and physically healthy lifestyle?
Have a budget based on needs versus wants. Living within a budget will help you stay away from financial situations that may cause stress.
Put aside emergency savings. This account can be used for unexpected medical expenses or other higher-cost items.
Exercise regularly and eat a healthy diet. With Thanksgiving around the corner, it's easy to get complacent in our daily routine, and not take care of ourselves. We might over-indulge and lay around watching football, or even just over spend on travel, food and extra non-essential items. This over-indulging might seem fun, but it's important to not let holidays get in the way of your health or financial goals. A healthy lifestyle saves you trips to the doctor and can reduce your risk of long-term disease. Bring a healthy lunch to work instead of eating out. Take a walk at lunch or after that big Thanksgiving meal. Better yet, work out for 20-30 minutes before you go to work, school or a holiday gathering.
All these habits will save you time, money and your health in the long run. As you live a financially healthy life, you'll be able to set aside more money to make healthy food purchases. Higher quality food costs more and when you have more funds available, you can make healthier food purchases. Remember that keeping your finances in order is just as important as eating well and exercising to ensure a happy, healthy lifestyle.
Stop by your local branch or visit myFCCU.com to see how we can help you maintain healthy finances!
---
The Holidays are Just Around the Corner. Are You Financially Ready?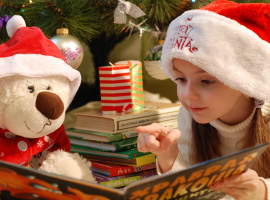 Every success story begins with a good idea, but every good idea won't become the next "big thing." Perhaps you have a great
The holidays are quickly approaching and that means shopping, shopping and more shopping! With holiday shopping, also comes the stress of having proper finances to buy the perfect gift to make all your loved one's smile.
Here are a few tips to help you get through the holidays without breaking your piggy bank:
Use a Budget. The best way to experience joy during and after the holiday season is to spend only what you can afford. Make a list of all of the things you plan to buy throughout the holidays, such as trips to visit relatives, gifts, food to take to holiday gatherings, etc. Then, develop a spending plan for these items and stay within your budget.
Avoid Impulse Buying. Determine what you want to buy for each person and then stick to your plan. Make sure when you shop, you have a clear mind and avoid late night online shopping, because that is the ideal time for impulse shopping.
Be Thrifty. You take time to carefully plan what gifts you want to buy for friends, family and loved ones, so why not also take time to comparison shop whether online or in store shopping is cheaper? It's important to do your homework and make sure you're getting the best deal for what you're purchasing. This is especially important when looking at costs associated with traveling over the holidays. There is nothing wrong with being thrifty and staying under budget!
Make Sure You Swipe. The holidays means more frequent use of your debit and credit cards, which means more chance of fraudsters trying to gain access to your personal information. This should not deter you from using your cards, but instead should only make you more aware of steps you should take to ensure your safe. Take advantage of FCCU's IDSafeChoice Theft Protection, to keep you safe and secure. Also, swiping your card when possible, versus using your PIN can also protect you more. Finally, visit with FCCU staff at your local branch to learn more about steps you can take to keep your finances safe.
If you're looking to get extra finances for the holidays, we can help! Stop in to your local branch to see if you qualify for our Christmas Loan Special or learn more about how First Community Credit Union can help you by visiting myFCCU.com.