March Newsletter
FCCU Celebrates 80th Anniversary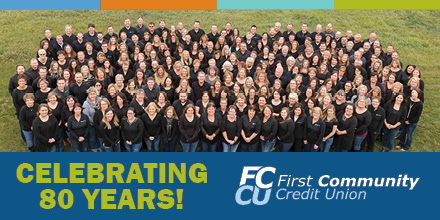 2019 marks our 80th year as a credit union. Then known as Jamestown Farmers Union Federal Credit Union, was founded in 1939 with just 45 members. Today we're 45,000 members strong and have grown to be the largest credit union in North Dakota. In commemoration of our 80th Anniversary, we have several festivities planned for March 18-29th. We hope you can join us!
The week kicks off with the 80th Annual Meeting of FCCU to be held on March 18, 2019, beginning at 5:30pm. The meeting will be held at the Farmers Union Conference Center located at 1415 12th Avenue SE in Jamestown. Three positions on the Board of Directors need to be filled. They are three-year terms. Dayne Headland, Owen Olson and Mark Watne have submitted petitions for re-election. No other petitions were submitted. Serving on the nominating committee are Jason McKenney, Sue Corwin and Sharman Zachrison. As directed by the bylaws, the vacancies will be filled by acclamation at the Annual Meeting. Following the business meeting, a meal will be served. Meal tickets must be purchased in advance for $2 and can be picked up at any FCCU office prior to close of business, Friday, March 8.
"I wonder if the founding members of our credit union ever imagined we'd grow to be where we are now?" says Steve Schmitz, president of FCCU. He continues, "I want to offer a heart-felt thank you to our members for 80 years of support. Your dedication, loyalty, and trust have enabled us to get to where we are today, and we look forward to serving you into the future, thank you!"
The celebration will continue the next two weeks at all our branch locations with giveaways, cash prizes and account specials. Be sure to stop by and visit us.
Please join us as we celebrate 80 years of service to our wonderful credit union members!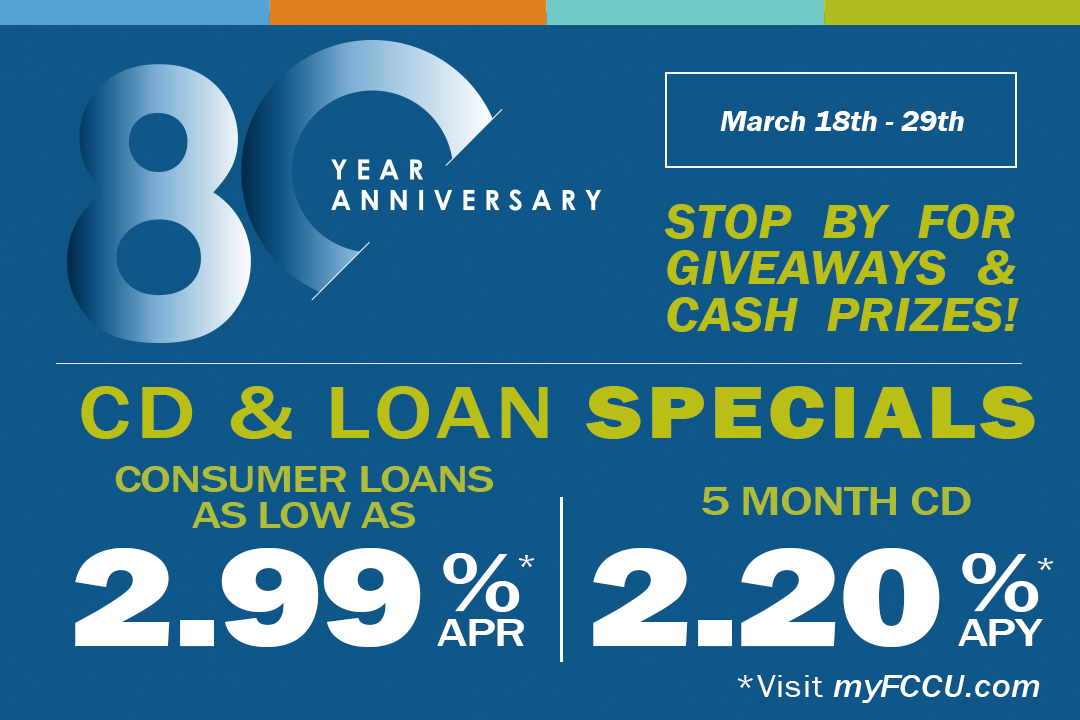 Still Time to Support Area Children in Need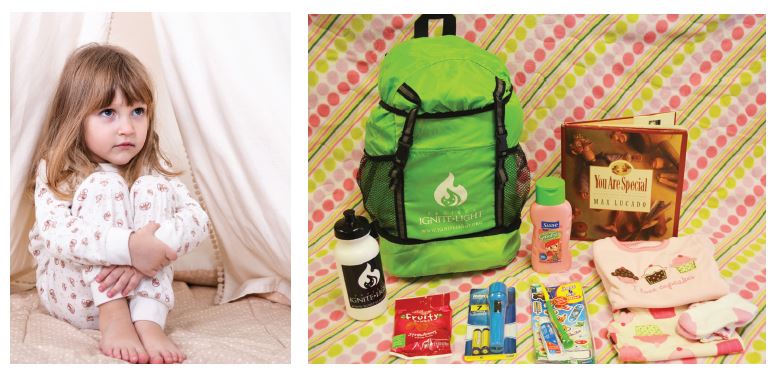 Our first quarter charity for 2019 is Project Ignite Light, an organization that gives thousands of abused children a piece of security and hope. To support this life-changing organization, each branch is holding a pajama drive. We are collecting new two-piece pajamas in sizes newborn through 18 years of age.
New fleece tie blankets are also accepted as a donation. They must be 1.5 yards each side and consist of two pieces of fabric; one solid and one patterned. For specific instructions, please visit: www.ignitelight.org. The pajama and blanket drive will go through March 29th, 2019.
Project Ignite Light provides about 200 "Bags of Hope" each month to reported abused children in Minnesota, North and South Dakota. The bags are free for the children and delivered through local advocacy centers. Each bag is customized for the child's age and gender and includes a blanket, pajamas, undergarments, personal hygiene items, flashlight, book and a water bottle. More information can be found at www.ignitelight.org.
The Gift of Getting Organized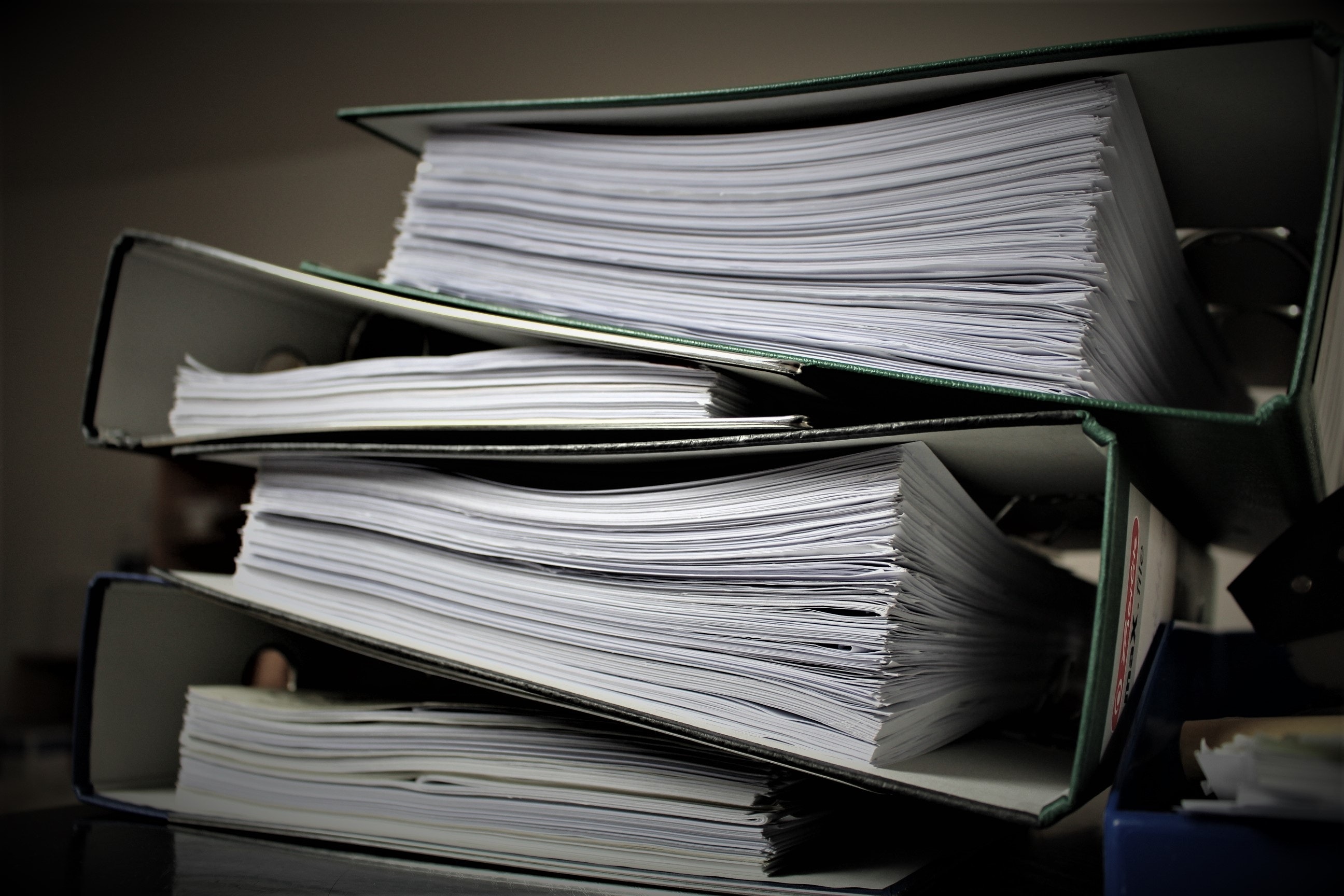 Organizing your financial records is one of the best gifts you can give your family. By setting up a workable system and telling family members about it will ensure they know how to pick up the pieces should there be a crisis or death.
Getting organized doesn't mean finding a place for everything. It means knowing what to keep and for how long, where to store documents and when to shred outdated statements.
Consider these tips to get started:
1. Eliminate waste. Toss items you don't need, such as receipts for small purchases or groceries, or records on autos you no longer need. Also, consider software organization tools, or going paperless. We have online banking that can help you get organized and go paperless.
Furthermore, to eliminate waste and prevent identity theft, shred old documents with Social Security numbers or account numbers. If you're finding yourself swimming in old papers, receipts and personal documents that need to be shredded, we have four convenient shred events where you can take your paperwork.
Jamestown: Friday, April 26th, 9:00am - 1:00pm
Grand Forks: Saturday, April 27th, 9:00am - Noon
Devils Lake: Saturday, May 4th, 9:00am - Noon
Fargo: Friday, May 17th, 11:00am- 2:00pm
2. File it. Set up a simple filing system that anyone can follow, separating active from inactive files.
3. Protect it. Get a safe deposit box for anything that would be difficult to replace if destroyed, such as birth and marriage certificates, titles, household inventory, investment certificates, and military records.
4. Establish a routine. Open and sort mail daily. Arrange bills so you can pay them about the same time each month. Every year or so, weed your files.
If you need help organizing your finances, we have trained staff that want to help or our convenient online Money Management tool is a great way to budget, get organized, see all your accounts in one place, set up reminders and more!
Letter from the Branches: Wahpeton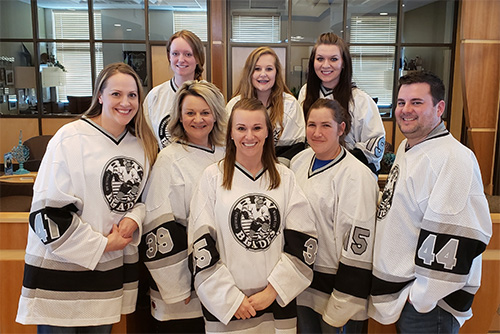 Greetings from Wahpeton!
Our team continues to take great pride in FCCU's motto of "Life is Better with Community" and we try to show this in every community event we take part in. As such, our Wahpeton branch has truly been staying active in our community lately.
Last month we served hot chocolate at the Chahinkapa Zoo for a Groundhog Day event. 

Additionally, for the fourth year in a row we've done Pee Wee the Penguin Valentine's deliveries to raise money for our first quarter charity, Project Ignite Light. A huge thank you to all those who continually support this initiative.
Several weeks ago, staff worked our first ever benefit event. This event proved to be an incredible success for both our member and our staff, alike. On Friday February 22nd, we supported our local hockey team by wearing their team jersey and several staff have attended local games.
This year we not only celebrate FCCU's 80th anniversary, but the town of Wahpeton's 150th anniversary. There are a lot of fun events coming up that our staff plans to participate in. In April we look forward to once again participating in Relay for Life and all that is to come later this year.
As always, our staff is ready and willing to help make your dreams a reality. Whether you're in need of an agriculture operating loan, home equity or even just a new checking account, we are here to help.
-Alysa Barth and the Wahpeton Staff
Member's Choice Club Events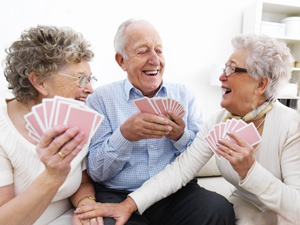 Join us for our upcoming events:
Portland - Luncheon - March 11 at 12:00pm - Portland Sr. Center
Jamestown - Polka Party - March 21 at 1:00pm - Vets Club
Steele - Bingo - March 27 at 2:00pm - Kidder Emmons Senior Center
Wishek - AARP Driver Safety Course - April 22nd from 12:30pm to 4:30pm
Bismarck - Bingo - April 24 from 1:00pm to 3:30pm - Dakota Skies Bingo
We have a special package of benefits for our members 55 years and up. Member's Choice Club is exclusively designed with a wide variety of perks and benefits including special gifts, events and account specials.
If you are someone with a zest for life and would like to learn more about getting involved with Member's Choice Club contact your favorite FCCU representative today.
Last Call for High School Scholarships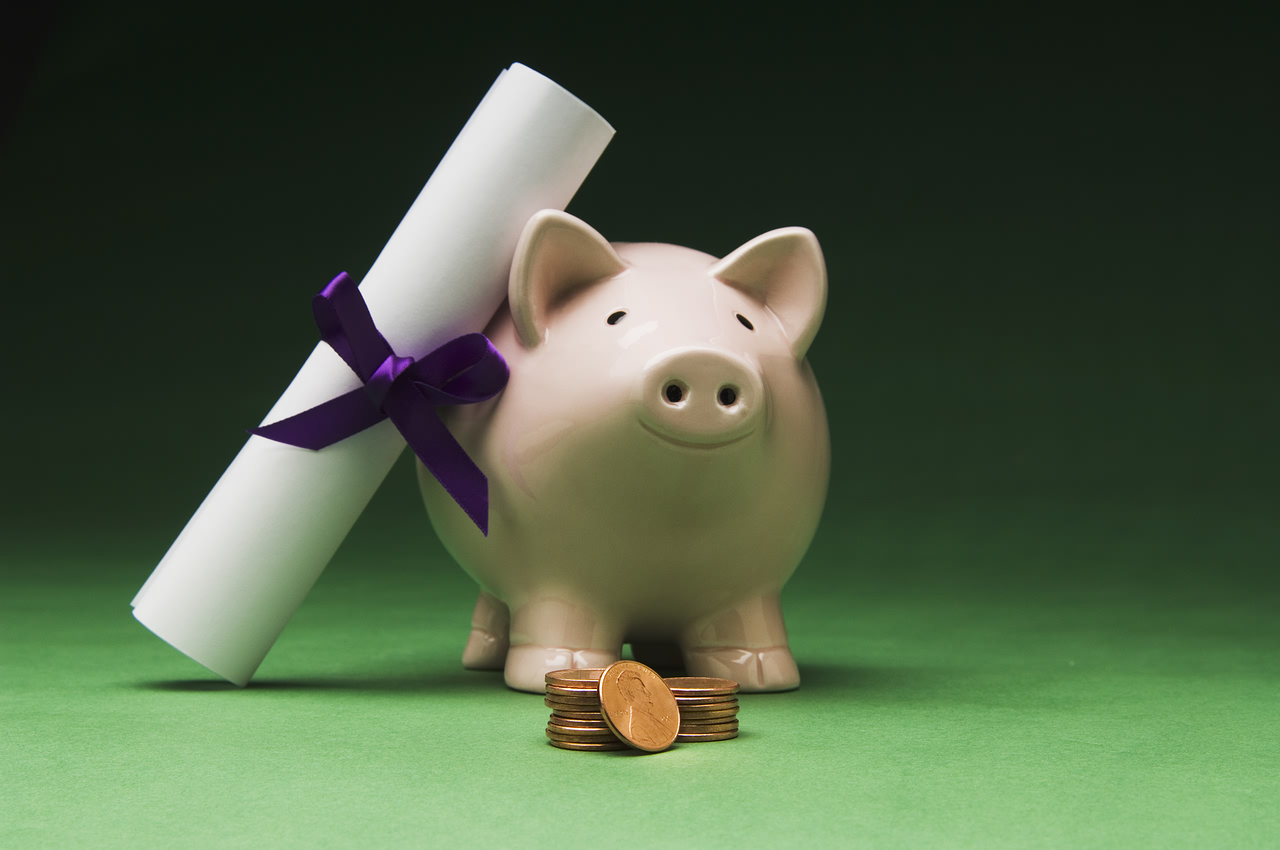 Do you know a high school senior that's graduating this year? Make sure you let them know about the scholarship opportunities available with FCCU! Once again, we'll be offering multiple scholarships to our members this year.
FCCU has an education foundation that supports our dedication to area communities by investing in today's youth. In 2014 we donated $1 million into a scholarship foundation to provide additional scholarship dollars to graduating high school students. The earnings from the foundation go to fund scholarship opportunities, including multi-year scholarships for members of the Credit Union for years to come.
In 2019, the Credit Union will award nine $4,000 scholarships and six $2,000 scholarships, which are $1,000 per year. There are 15 scholarships available for the following schools in which FCCU has branch locations: Bismarck State College, Cankdeska Cikana Community College, Concordia College, Lake Region State College, Minnesota State University of Moorhead, Minnesota State Community and Technical College, Mayville State University, Northland Community and Technical College, North Dakota State University, North Dakota State College of Science, University of Jamestown, University of North Dakota, University of Mary, University of Minnesota Crookston and Valley City State University. In addition, a limited number of individual one-year scholarships will be available to any college, university, or trade school of the student's choice at the value of $1,000.
For full details and to access the online scholarship application, please visit our website at www.myFCCU.com. The deadline to submit an application is March 15th, 2019.
That Smells "Phishy"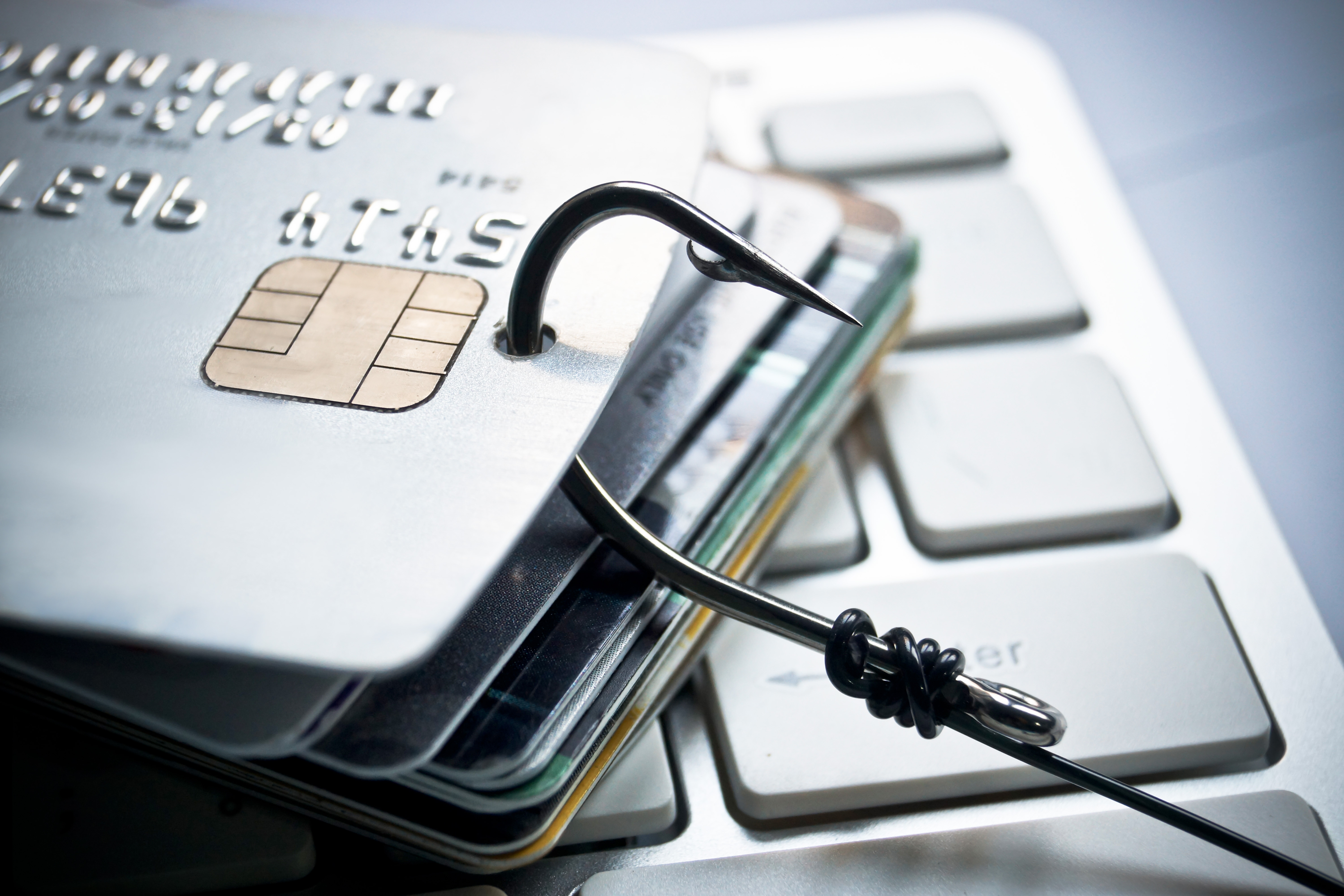 Now I know what you're thinking, "Doesn't fish begin with an 'Fi'?" It does, but we are talking about another kind of phishing that uses various luring techniques and bait to catch prey.
According to Webster's dictionary, they define phishing as "a scam by which a consumer is duped into revealing personal or confidential information which the scammer can use illicitly." Mr. Webster is right. We are being duped as a society. We believe that the person on the other end of the telephone is who they say they are, but are they?
Cyber-criminals exist in nearly every country where there are computers and phones. These criminals are setting up what look like legitimate websites to carry out their scams. They utilize social media platforms like Facebook and LinkedIn to stalk and separate their prey from the rest of its pack.
They pretend to be a close friend, family member, or someone else that you might know and trust like your financial institution. Gasp! Would they really impersonate a financial institution or credit card company? Yes!
ATTENTION: Never share your account, credit card, and or any other type of personal or financial information with anyone, especially over the phone! Your financial institutions already have your account information, so why would we ask for it again?
If you feel something doesn't sound right or it starts to smell "phishy", don't provide your personal information. Instead, report the incident to First Community Credit Union, we are here to help!