May Newsletter
FCCU Awards Twenty Students with College Scholarships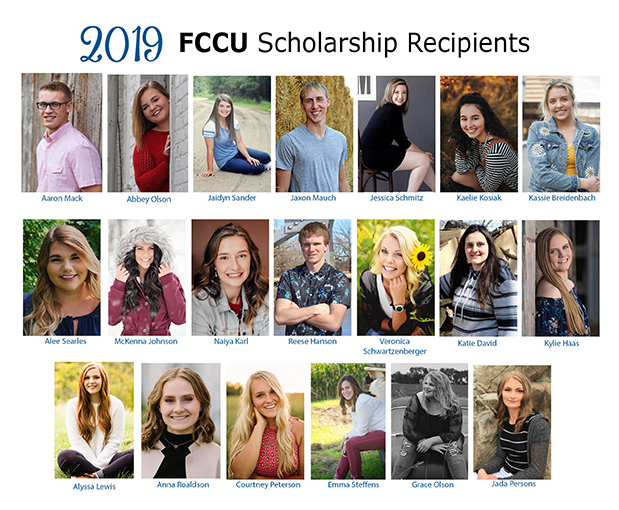 In 2014, First Community Credit Union created a program that supports our dedication to area communities by reinvesting in youth. FCCU donated $1 million into a scholarship foundation to provide additional scholarship dollars to graduating high school students. The earnings from the foundation go to fund scholarship opportunities for members of the Credit Union for years to come.
FCCU awarded 12 graduating high school seniors from around the state with college scholarships. This year, FCCU will fund approximately $40,000 in scholarships, including multi-year scholarships from previous years.
FCCU and its Board of Directors are honored to provide 12 new multi-year $1,000 scholarships to the following students to use toward their college academia: Kylie Haas of Bismarck, Anna Roaldson of Bismarck, Jaidyn Sander of Hankinson, McKenna Johnson of Napoleon, Alyssa Lewis of Rosholt, Alexandria Searles of Wyndmere, Veronica Schwartzenberger of Napoleon, Katie David of Cando, Abbey Olson of Devils Lake, Reese Hanson of Mayville, Grace Olson of Warren and Jada Person of Fargo.
In addition, we are honored to provide an additional eight single-year $1,000 scholarships to Jessica Schmitz of Jamestown, Naiya Karl of Fargo, Emma Steffens of Fairmount, Kassie Breidenbach of Napoleon, Kaelie Kosiak of Wishek, Courtney Peterson of Jamestown, Jaxon Mauch of Mooreton and Aaron Mack of Jamestown.
Finally, Luke Miller from Bismarck was chosen as the winner of the best essay and will receive a $250 Visa gift card.
Over the past 22 years, FCCU has given out more than $200,000 in scholarships. The Board of Directors recognizes the importance of young people receiving a good education and wants to encourage them to do their best. FCCU continues to do its part in providing incentives to help students reach their full potential.
On behalf of FCCU, we would like to extend our congratulations to the winners of the 2019 First Community Credit Union Scholarship Foundation Program. Best of luck to all our graduates this year!
We have a special package of benefits for our members 55 years and up. Member's Choice Club is exclusively designed with a wide variety of perks and benefits including special gifts, events/tours and account specials. If you are someone with a zest for life and would like to learn more about getting involved with Member's Choice Club contact your favorite FCCU representative today.
FCCU Recieves Dora Maxwell Award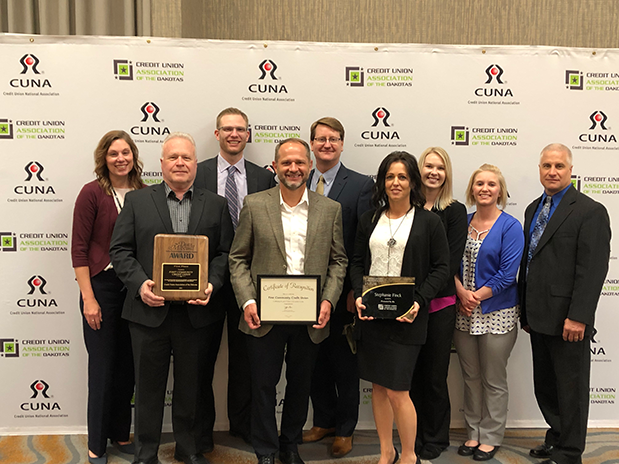 We were recently recognized for our community service as a credit union, as well as our dedication to our members by the Credit Union Association of the Dakotas (CUAD). Hundreds were in attendance at the credit union conference in Fargo as FCCU was recognized with the Dora Maxwell Social Responsibility Community Service Award. The award was won for the Credit Union's fundraising efforts for our second quarter charity in 2018, suicide prevention.
Concern for the community is what our quarterly charities are based on. Sadly, suicide has taken the lives of many of our community members across our branch footprint. More than, 44,965 American die by suicide each year, according the afsp.org. These deaths hurt our members, friends and families and we wanted to help.
FCCU employees wanted to spread the word about suicide prevention and let people know that there is hope. The most impactful way to do this was to raise money for the American Foundation for Suicide Prevention (AFSP) and to have suicide prevention be a quarterly charity selection.
There were many activities FCCU participated in to help raise funds and awareness for the AFSP including a meeting with Dakotas Area Director for AFSP, Jeans Fridays, Pin Ups, social media posts, FirstLink's Annual Breakfast, TEARS informational seminar and an Employee Silent Auction. Through this all FCCU was very proud to have raised $5,500 for this cause to go to research, education, prevention and much more.
Grand Forks 32nd Grand Reopening

FCCU is proud to announce that our Grand Forks 32nd branch has recently completed the remodel of our building.
The remodel features a more modern space to better serve current and future members. The space includes adding a conference room, remodeling the main entrance, more offices for staff and a complete transformation of the teller line. The exterior of the building also had some minor improvements.
"The updated facility will allow us to better serve our existing members as well as attain new members. We invite the Grand Forks community and beyond to come see our new space and celebrate with us," says Steve Schmitz, President and CEO.
A Grand Reopening is planned for the week of May 20-24. The celebration will consist of Grand Reopening account specials:
Consumer Loan rates as low as 2.75%APR*
21 Month CD at 2.60% APY**.
There will also be door prizes, giveaways and refreshments all week. The Grand Forks Chamber of Commerce will hold a ribbon cutting ceremony at the branch at 4:30pm on Tuesday, May 21st.
$5,000 Raised for Project Ignite Light & New Personal Record for Donations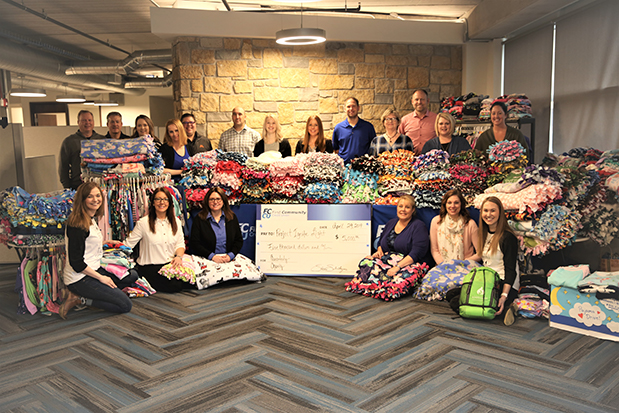 We are thrilled to share that we have set a new record for the number of pajamas and blankets that we donated to Project Ignite Light for our first quarter charity.
We broke last year's record with 154 fleece blankets and 405 pairs of pajamas to their 'Bags of Hope.' In addition to the items, we raised and donated $5,000. This is the fourth year in a row that FCCU employees have chosen to support this cause and in the last four years, we have donated 576 blankets, 1,457 pair of pajamas and raised an impressive $21,000!
The donation, blankets and pajamas were presented in Fargo to Project Ignite Light Founder, Pebbles Thompson and Vice President of Growth and Development, Amanda Geisler. This presentation even caught local media attention.
"This is an overwhelming outpouring of support," said Pebbles Thompson, Founder of Project Ignite Light. "We cannot do what we do, without fundraisers like this and community outreach. These blankets and pajamas donated by FCCU are going to give a child in need a sense of hope in their darkest hour."
Susan Long Swen, event & community engagement specialist with FCCU says, "Through this fundraiser, together we helped over 400 kids begin a new start." She continues, "It was amazing to present all these blankets and pajamas to Project Ignite Light. It's sad to know organizations like this have to exist, but wonderful to know through our help, we can bring hope to so many kids."
Project Ignite Light is an organization that strives to give thousands of abused and foster children a piece of security and hope. They do this by providing 'Bags of Hope' delivered through local advocacy centers. The bags are customized for the child's age and gender and include items such as a blanket, pajamas, undergarments, personal hygiene items, flashlight, book, and a water bottle. Every reported abused child receives a free bag.
Currently they provide approximately 400 bags each month throughout North Dakota, South Dakota, and Minnesota. Since their founding eleven years ago, Project Ignite Light has helped more than 20,000 children and they have a goal of bringing this program nationwide. For more information, visit www.ignitelight.org.
Thank you to everyone who helped us show our support for this wonderful organization.
Upcoming Member's Choice Club Events
Join us for our upcoming events:
Jamestown - Bingo - May 16 at 1pm - Senior Center
Wishek - Ft Lincoln Trolley Ride- Information coming soon.
Bismarck - Ice Cream Social - June 17 from 1:30 - 3pm - Senior Center
Valley City - Art Class - June 20 at 1pm - Arts Center