Main Office
Phone
1-800-850-7676
Email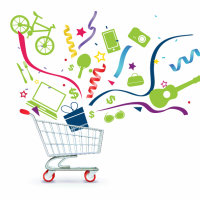 Magic Minute
So You Think You Can Shop?
Imagine the rush of gripping the handle of an empty, oversized shopping cart in a warehouse stacked to the rafters with high-end merchandise – flat screen TVs, laptops, tablets, sporting goods, appliances and more – and you have one full minute to grab as much cool stuff off the shelves as you can. Legs flexed, eyes forward, you wait for the starting buzzer to sound and . . . zoom! You're off on a mad dash to bag anything in sight that strikes your fancy!
It can happen to you! FCCU wants to give all of our CURewards® cardholders the chance to win a trip to Chicago for the most outrageously exciting shopping thrill of a lifetime. Just a few years ago, it was FCCU member Briana who enjoyed this trip of a lifetime!
It's called the Credit Union Magic MinuteTM sweepstakes and here's all you need to do for a chance to win an all-expense paid trip to the Windy City and a place for you and a guest at the starting line:
1. Register to enter the sweepstakes at www.CURewards.com.
2. Use your FCCU credit or debit card with points to make at least three purchases per week during any or all of the weeks between June 19 and September 24.
3. Every time you use your card, your name will be entered in up to seven drawings to pick the winners from credit unions participating in the Magic Minute.
4. The more you use your card, the more entries you'll have in the drawings, and the better your chances of winning.
Register now and start dreaming! Check www.CUMagicMinute.com for complete sweepstakes details, rules and free method of entry.