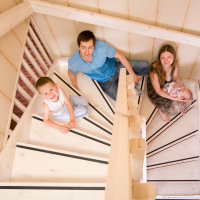 Home Equity Line of Credit
If you've built enough equity in your home, you can use it to secure a line of credit. This type of loan gives you flexibility to use and re-use the funds as the need arises.
Cover large purchases, make emergency repairs, or go ahead and take a vacation. Your home is your greatest asset - put it to work for you the easy way!
Summary

Ideal for immediate cash needs
Access funds when you need to
Only pay interest on what you use
Re-use as needed without re-applying
Competitive variable interest rate
Interest may be tax deductible*
Local decision making
Personal service from people you trust




For the latest rates, give us a call at 1-800-850-7676 or visit the branch nearest you.




*Consult a tax advisor