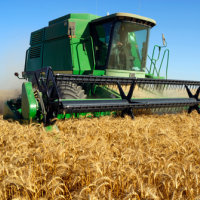 Agriculture Loans
From operating loans to equipment and real estate purchases, we can meet all your agricultural lending needs. Our experts have been helping our area farmers for more than 70 years. First Community Credit Union has grown to be one of the top five Ag lending credit unions in the country, and we are proud of our role in helping thousands of farm families succeed.
Our agricultural loan officers provide prompt service including analysis of your financial situation. You will be surprised at how high our lending limit is to Ag and commercial borrowers. Contact us to find out!
Summary

Interest rates to fit your needs: fixed, variable, or adjustable
A variety of agricultural uses:
Land purchases
Buildings and improvements including bins and farm homes
Equipment and vehicle purchases
Livestock purchases
Ag PACE loans for farmers and ranchers
Operating loans for all types of farming operations including farms, ranches and feedlot operations
We participate actively with the Bank of North Dakota
Our experts can also finance your non-farm investments

For more information about our Ag loans or to apply, stop by your local branch to visit with one of our Ag loan specialists.