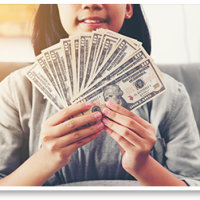 Giveaway!
You could win some cold hard cash!
What would you do with an extra $500? Go on a shopping spree, take a vacation, maybe put it towards a loan or save it for a rainy day?
We're giving away $1,000 in cash to new members and existing members that open a new account.* Prizes include a $500 grand prize winner and two $250 winners.
Stop by your local branch or contact us to get started today. Not a member of FCCU? Find out more about being a member and owner of the largest credit union in North Dakota.
*From 6/11/18 to 7/11/18 FCCU will conduct a contest allowing FCCU members who open a new consumer account automatic entry to win a total of $1,000 in cash. There will be one grand prize winner of $500 and two $250 winners. Loans subject to credit approval. Promotion excludes mortgage loans. One entry per person will be accepted. You may enter to win without purchase or obligation by filling out 3.5 x 5 inch card and mailing it to FCCU, Attn: Marketing, PO Box 2180, Jamestown, ND 58402-2180. The card must include complete name, mailing address, phone number. Winner selected within one week of the contest ending and notified via phone. Acceptance allows FCCU to promote member name and photos in marketing promotions. Other terms and conditions apply.