Main Office
Phone
1-800-850-7676
Email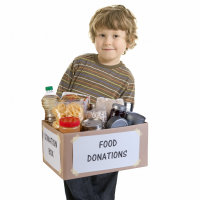 Food Drive
Help us feed our communities by donating to local food shelters
We're proud to announce our third quarter fundraiser! As chosen by FCCU staff, we'll be raising money and awareness for local food pantries.
Community Cookbook
FCCU is making a cookbook and we need your help! Submit your recipes by August 4th to be featured in the book.
Pre-order your cookbook for $10 by calling 1-800-850-7676 or emailing fccu@myfccu.com, all proceeds go to local food pantries. August 4th is the pre-order deadline. Cookbooks will be distributed late August.
Food Drive: August 1 – September 23
To support the backpack programs and local shelters, FCCU will hold a food drive at each branch. Here are some suggested items, if you'd like to contribute:
Canned items such as soup, fruit, vegetable, tuna, beef stew

Boxed dinners such as macaroni & cheese, rice

Kid-friendly items such as granola bars, fruit snacks, raisins, graham crackers, fruit cups, pretzels

Peanut butter, jelly, mayonnaise, salad dressing, spaghetti sauce

Cold cereal, hot cereal mixes, breakfast bars

Non-food items such as paper products, soap, shampoo, toothpaste
Local Agencies
The items and funds collected will be donated to the following local agencies according to branch:
Bismarck - Great Plains Food Bank

Fargo - Great Plains Food Bank

Hankinson – Richland County Food Pantry

Jamestown – Salvation Army

Milnor – Sargent County Food Pantry

Napoleon - Logan County Food Pantry

Oakes - Oakes Food Pantry

Portland – Mayport Food Bank

Steele – Kidder County Food Pantry

Valley City – Barnes County Food Pantry

Wahpeton - Richland County Food Pantry

Wishek - Wishek Food Pantry
Thanks in advance for your support and helping to feed our communities!
To add some more fun and attention, we're holding a can sculpture contest between the branches. Help your local branch win by supporting the cause!