View all posts
What's a USDA Home Loan?
05/09/2023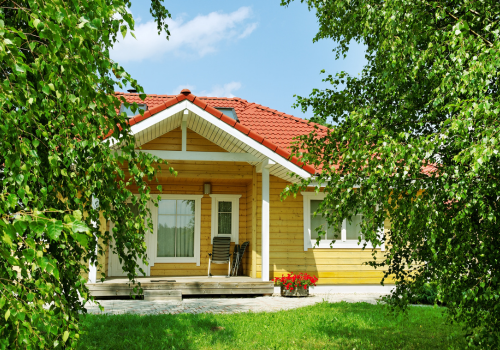 Unsure where to begin in the home buying process? Tanya Nenow, Mortgage Loan Officer, sits down with Katie Nehl, Communications Manager at FCCU to answer some questions about home loans.
You can also listen to the full version of this sit-down, via our podcast, 'Let's CU Succeed'.
Katie: What does it look like to help someone with a USDA loan
Tanya: I helped a recently divorced lady who has two kids, and a beautiful home that her and her ex had completely renovated. The renovation resulted in $50,000 of credit card or unsecured debt. Having gone from 2 income to only 1, she knew she would not be able to afford to buy out her ex-husbands equity in the home. So she had to put that house up for sale. She stopped in to see what her options were for purchasing a new home. So after listening to her story about her divorce situation and looking at the newly renovated property we were able to find a solution to fit her, which actually was with a USDA loan. Instead of using those proceeds from the renovated house for a down payment on a new home, we looked at what if we used those funds to pay off existing debt. This route resulted in her saving over $2,500 a month. Then we went into using the USDA No Down Payment Loan program which qualified her for a higher end home. After looking at the monthly payment on that new home, still with eliminating the debt that we did, we saved her 900 dollars a month and she was able to move her family into a higher end home. She was ecstatic.
Also with the USDA Loan Program, it is a government backed loan so the interest rate on the home loan was much lower than what she was paying with those credit cards. So she was saving thousands of dollars in interest because she was making that minimum monthly payment on those revolving accounts.
K: Can you explain what a government backed loan is?
T: Government backing means that, in comparison to conventional mortgage, USDA loans can offer a lower interest in many cases. You can qualify with no down payment but there can be some closing costs involved. These can be worked into the purchase agreements as well so you can potentially get into the home with no money down. So the USDA home loan is a competitively priced mortgage option, it helps making home purchasing easier for those living in designated rural areas.


K: What is considered a rural area?
T: Most of North Dakota is considered rural except for directly in the cities of Bismarck, Grand Forks, Fargo and Minot.


K: Why are USDA Home Loans so popular?
T: The USDA loan program is most often connected with the first time home buyer program. Many first time buyers come in thinking you need to place 20% down and want to look at what they qualify for. You do not have to come up with 20% down to purchase a home. The USDA Loan offers a program so you can potentially get into the home without that down payment. It is very common. There is no age limit as long as you are over the age of 18. You do however have to personally occupy the residence, so no investment properties or duplexes qualify for the USDA Loan program. It also does require income limits but here in Stutsman County, if you have a family of four or less, the annual limit is $190,250. If you have a family of five or more, the annual limit is $144,200, so relatively high. The income limits are different depending on the county in North Dakota or Minnesota.
K: Is there a limit to the price of the home I want to purchase?
T: Again with those income limits that will set the debt income ratio. So the amount of the home you can qualify for will be based on your debt to income ratio. So total debt to income ratio we have to stay under 43% with the USDA Loan program. That is including all of your debt, including the new home must be under 43% of your gross monthly income.
Part of what we do is finding a loan that fits your needs. You can stop in, sit down, let us know what your situation is, and we will let you know what programs we can offer.


K: What are the pros and cons of doing this type of loan?
T: Pros: There is no down payment option, and we do not require cash reserves. With other loan types, we do require a six month cash reserve where you have to provide bank statements that prove you can pay six months of mortgage payments but with a USDA loan that is not required. Since it is a government loan there are fixed interest rates and there are no prepayment penalties.
Cons: Geographic restrictions of rural communities. Income limits and you have to use the home as your primary residency and cannot be an investment property or a duplex. What is the catch? There is a guarantee fee. There is a 1% upfront fee that can be rolled into the loan amount and every year .35% fee that is paid monthly within the mortgage payment. Unlike private mortgage insurance, the guarantee fee does stay on for the life of the loan but does decrease as you pay down the principle. USDA is selective about the property you are looking to purchase. They require that the home is structurally sound, functionally adequate, and in good repair. So there cannot be any paint peeling, broken windows, shingles must be at least average condition and there cannot be any foundation issues just to name a few. The main issue we find in North Dakota is peeling paint from our harsh winters so make sure that your realtor knows you are using a USDA loan program for this purchase or if you notice any peeling paint, let the seller know that should be repaired prior to the appraiser inspecting that property.


K: How do I decide if USDA is the loan for me or if there is a different loan out there for me?
T: You can stop in and visit with one of our 10 mortgage officers here at First Community Credit Union. We would be happy to explain all of our mortgage products to you and pair you with the one that best fits your needs.


K: How many loan programs do we offer here at First Community Credit Union?
T: If a USDA loan isn't the right option for you, we have a wide variety of loans. We offer straight conventional loans, FHA, VA, USDA, and construction to name a few.
If you're ready to apply with FCCU Home Loans you can find a Mortgage Lender near you or apply online.