View all posts
Celebrating Our College Connections: Meet Sage
09/21/2022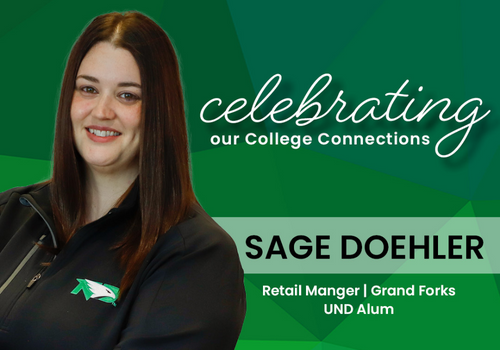 Earlier this year, we began a new quarterly blog series featuring topics related to careers in the financial industry. This quarter, FCCU will be featuring our college connections and the skills our staff learned through their education.
Meet Sage, Retail Manager of our Grand Forks Market and our fourth and final feature this month! And learn how you can join our strong team, here.
How did you choose your major/minor/concentration and what influenced you to choose that path.
I didn't have it all figured out at 18 and took a non-traditional path through school. I took some time off before returning to UND to complete my degree. I have always like numbers so banking and economics seemed like a natural fit.
Was there someone in your life that you considered a mentor that helped lead you towards a certain college/university and career path?
I had a grandpa who graduated from UND in the 50s and spoke highly of his alma matter.
Do you have a favorite memory from college?
I will never forget the feeling when I walked out of the Gamble Hall after turning in my final, final exam. After years of hard work, that sense of accomplishment was remarkable.
How did your education help prepare you for your career?
My education gave me the foundational knowledge and skills I needed to have a successful career in finance. I have never been a morning person, so 8:00 am classes helped prepare me for the business world.
What skills did you learn in college that carried over to your career today?
There are too many to list, but a few that come to mind are: management skills, communication, financial analysis, accountability, teamwork, and more.
What advice would you give to someone as they are entering college and choosing a career path? Keep your mind open to new ideas, people, and experiences and become a life-long learner. Don't give up on yourself; I took time off and finished my degree at age 30.
What is your role at FCCU, what do you do in that role and what do you enjoy most about it?
I am currently the Retail Manager for the Grand Forks Market. I manage the day-to-day retail operations in our Grand Forks market, coach front line staff to reach FCCU goals and service standards, and work closely with the Grand Forks Market President to develop and implement the strategic growth action plan for the market. The best part of the Retail Manager position is seeing the growth in each member of our team. I would not have success in my position without them. I enjoy helping others learn and grow in their role and working together towards their goals.
.
.
Learn how you can join our strong team, here.