View all posts
Celebrating Our College Connections: Meet Ashley
09/07/2022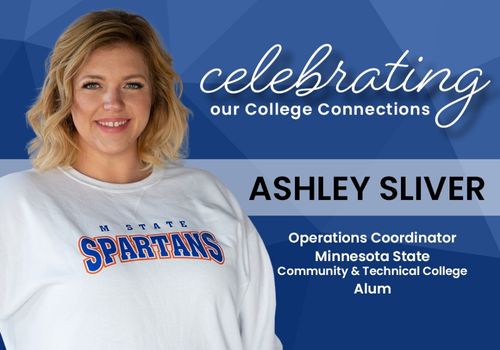 Earlier this year, we began a new quarterly blog series featuring topics related to careers in the financial industry. This quarter, FCCU will be featuring our college connections and the skills our staff learned through their education.
Meet Ashley, Operations Coordinator at our Administrative Branch and our second feature this month! And learn how you can join our strong team, here.
How did you choose your major/minor/concentration and what influenced you to choose that path?
After having previously gone to school for nursing and spending almost a decade in healthcare I decided I wanted a career change. I recently went back to school for business and marketing. I love to work with a variety of people and be able to be creative. There are so many possibilities in this field!
Was there someone in your life that you considered a mentor that helped lead you towards a certain college/university and career path?
My parents. While they did not influence me into a certain college or degree specifically, they have been the most supportive people that have helped guide me through some big changes in my life. They are my voices of reason and were a huge part of my decision to go back to school.
What is your role at FCCU, what do you do in that role and what do you enjoy most about it?
Operations Coordinator – Member Services. I provide back-office support as well as writing procedures and training materials for tellers and financial officers. I enjoy providing training and assistance to our frontline staff working with them to make sure they are confident in their roles and that we provide the best experience for our members.
How did your education help prepare you for your career?
I help frontline staff work with a variety of accounts including business accounts. My education has provided me some additional knowledge in the structure of different businesses. These skills I've learned through my education have been beneficial in my current role.
What advice would you give to someone as they are entering college and choosing a career path?
If you are unsure of what you want to do, take your generals. Taking a variety of classes may help direct you to your interests. Also, get involved in extracurriculars or in the community! This is also a great way to find what interests you!
.
.
Learn how you can join our strong team, here.