View all posts
Celebrating Our College Connections: Meet Eric
09/13/2022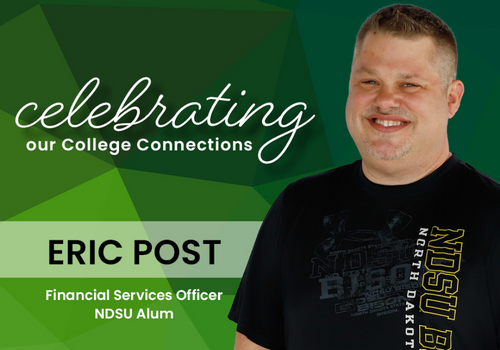 Earlier this year, we began a new quarterly blog series featuring topics related to careers in the financial industry. This quarter, FCCU will be featuring our college connections and the skills our staff learned through their education.
Meet Eric, Financial Services Officer in Fargo and our third feature this month! And learn how you can join our strong team, here.
How did you choose your major/minor/concentration and what influenced you to choose that path. While working as a Real Estate Agent I spent a lot of time with mortgage loan officers. I saw on a daily basis what their job consisted of and I wanted to have that knowledge, so I decided to go into a financial career.
Was there someone in your life that you considered a mentor that helped lead you towards a certain college/university and career path? My mother was an accountant and very good with money. As I grew older, I realized how valuable that was and wanted to work in a career field where I could use those skills to help others.
Any extracurricular activities you participated in college and why they were important to you. Was there anything that you learned participating in them as well? I volunteered at the Red Cross and HERO in Fargo. They were both great for meeting new people and seeing how non-profits operated.
Was there a particular course or class project that gave you a foundation for your career?
In one of my finance classes, we had a mock stock market project. We started with a million dollars and had 8 weeks to grow make trades. I was very involved every day with the stock market, definitely more than the other group members. We ended up the most profitable group with a 20% gain and it taught me a lot about finance, which in turn has helped me in my career today.
What advice would you give to someone as they are entering college and choosing a career path?
If you have the opportunity to shadow people in different career fields that can be very helpful. It may not help you find exactly what you are looking for but it may help you cross a few career paths off the list. Get an internship in your area of study. It will help you be more qualified for a job when you graduate.
What is your role at FCCU, what do you do in that role and what do you enjoy most about it?
I am a Financial Service Officer. I work with loans, new accounts, and several other services for our members. I mostly enjoy helping people repair their credit over time by making smart financial decisions. It's incredible to see someone grow from opening an account with little credit to finally buying their first vehicle.
How did your education help prepare you for your career? Learning how credit and interest worked helped me gain confidence to do the job that I have today.
.
.
Learn how you can join our strong team, here.