View all posts
Celebrating Our Young Professionals: Meet Dalton
05/09/2022
Earlier this year, we began a new quarterly blog series featuring topics related to careers in the financial industry. This quarter, FCCU will be featuring FCCU Young Professionals in the Workplace. FCCU is proud to employ 150 GenZ and Millennials! That means over 50% of the FCCU workforce is made up of young men and women that are making a difference each day.
Learn how you can join our strong team, here.
Meet Dalton, Financial Services Officer and our second young professional spotlight this month.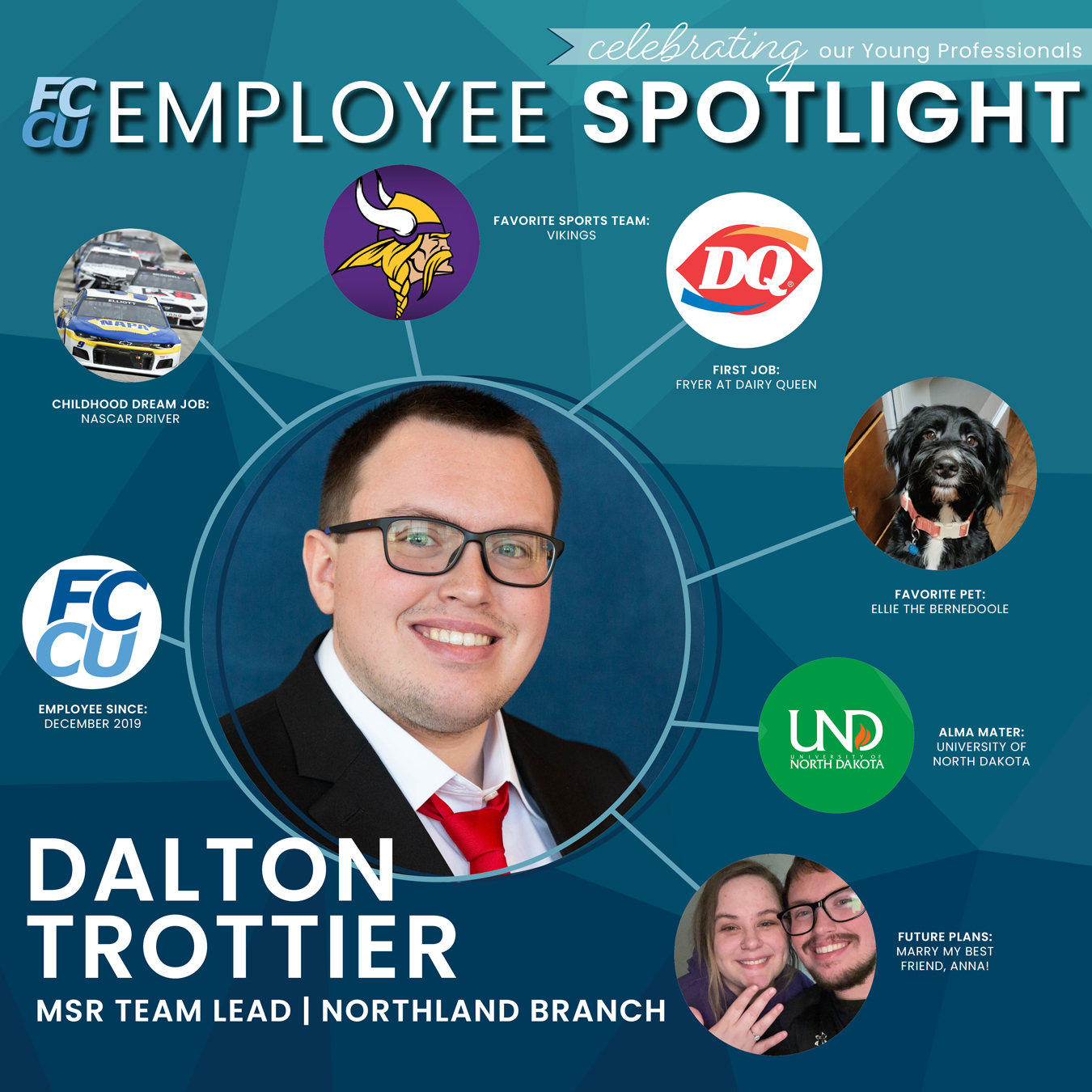 What is your role at FCCU?
I am an Member Service Representative Team Lead at our Fargo Northland branch, next to NDSU. I have a team of two tellers that I supervise and make sure that we are providing the best service to our members that we can. I also help out by opening new accounts when needed.
How did you choose the career you wanted to go into?
I chose finance because I wanted a career I can go into and help people. I am all about seeing people achieve their goals. If I can help people achieve their goals in life, I feel like this will be a very fulfilling career.
What is the most exciting part of your job?
I find it very exciting when we are able to solve member's problems. It's always great when a member leaves with a smile.
What do you enjoy about working at FCCU?
I enjoy the close-knit atmosphere here at FCCU. It truly feels like we are one big family. The culture here is amazing.
What advice would you give a young professional just starting out in their career?
Set goals! Goals will help set a roadmap for future success. Don't look too far ahead though. You need to be able to balance that by living in the moment. Take it one day at a time and try to get better at what you do each day.