View all posts
Celebrating Our Young Professionals: Meet Keyera
05/03/2022
Earlier this year, we began a new quarterly blog series featuring topics related to careers in the financial industry. This quarter, FCCU will be featuring FCCU Young Professionals in the Workplace. FCCU is proud to employ 150 GenZ and Millennials! That means over 50% of the FCCU workforce is made up of young men and women that are making a difference each day.
Learn how you can join our strong team, here.
Meet Keyera, Financial Services Officer and our first young professional spotlight this month.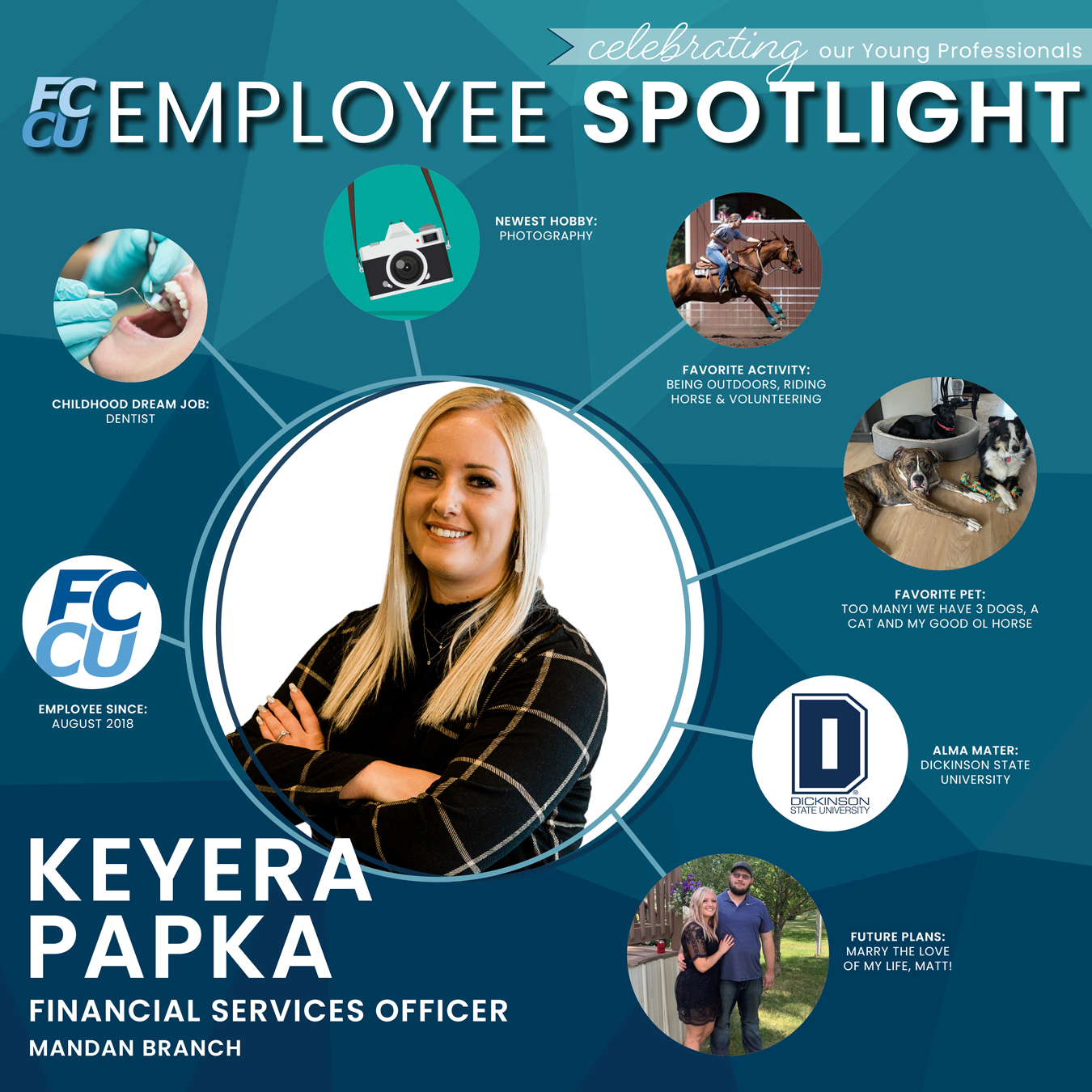 What is your role at FCCU?
I am a Financial Services Officer – or a loan officer. I help people achieve their financial goals by helping them finance a purchase, payoff debt, or improve their credit score.
How did you choose the career you wanted to go into?
When I was younger, I feel like I knew all the things I did not want to do. I think working at the bank early on helped me decide. I enjoyed helping and talking to customers. I was also inspired by the many well respected and knowledgeable individuals in the Business field. This field opened many opportunities for me.
What is the most exciting part of your job?
The most exciting part of my job is building relationships with our members. I love that I get to work with so many different types of people. I love hearing about their children, their pets, and anything else that is going on in their lives. I also enjoy that I am able to watch many of them grow in relation to their financial wellness. Whether its saving or improving their credit scores. It's a huge accomplishment. Finances just isn't something that is taught at school.
What do you enjoy about working at FCCU?
I love working at FCCU because of the people – members and coworkers. I work with a wide variety of personalities and backgrounds which makes the day fun and interesting. I have learned a lot from our members and their various lines of work as well as my coworkers and their various backgrounds. We love to have fun at the branch and many of our members come in and join our fun. I also love the various members who stop or call in anytime they need advice or to chit chat with the staff.

What advice would you give a young professional just starting out in their career?
Work hard and be true to yourself. Integrity is everything; if you make a mistake, acknowledge and learn from it, but don't beat yourself up over it. Understand what your weaknesses are and always try to work on those things.