View all posts
Tips for buying a car
06/07/2021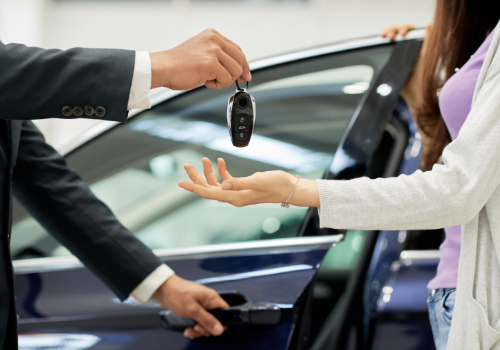 When purchasing a car, a goal should be to get the car of your dreams at a fair price and one that you can afford. Knowledge is power.
Looking at buying your first car? We have a podcast that's perfect for you! Click here.
Here are a few other tips to prepare yourself for a successful purchase when buying a car.
Determine your budget: How much can you afford? Do you have cash for a down payment or cash to cover the entire purchase? Can you afford a monthly payment? If so, how much per month. Remember that you'll have other costs associated with the car such as insurance, gas, maintenance, etc. so put those in your budget. If you need a loan, where will you get the loan? A credit union is a great place to get a car loan, so inquire with a loan officer near you and they will tell you what you can afford and how much they will lend you.
Cash talks: Even if you don't have the cash to buy the vehicle outright, talk to your loan officer about this purchase ahead of time, then you can walk into the dealership with the confidence of a cash buyer. You'll know exactly what you can spend and know that you don't need the dealership to help finance the purchase, but instead your credit union can help.
Do Your Research: Once you know how much you can afford to pay, do your research to determine which cars fit within your price range. Research comes in many different forms and the internet and local newspapers/car magazines are great resources. Make sure you explore the different dealerships in your area to see what cars they offer.
Determine a true value for car: Once you know what kind of car you want, you should understand how much it generally sells for and what the realistic price range should be. You can use Kelly Blue Book as a good guide to determine the true value of a car. EBay Motors can let you see what other buyers have paid for the same or similar cars and Cars Direct can quote you what new cars should be priced at. All these will help you determine the true value.
Determine the value to you: Now that you know the amount you can spend and the true value of the car you're interested in, you need to set the maximum price that you're willing to pay for a vehicle. Anything above that price means you decide not to purchase the car. Remember, you want to act like a cash buyer and can walk away at any time. Don't fall in love with a specific car as there are many to choose from and many dealerships that would love to earn your business.
Negotiate and determine the seller's lowest price: It's important to remember to be patient as you begin negotiating and try not to put your best price on the table first. Always give yourself plenty room to negotiate the price down from the seller's original quote, too. Ask a few questions to try and determine their lowest price such as:
- What's your lowest price for this car?
- How flexible you are on the price?
- How much would you take, in cash, today to earn my business and not have me walk down the street?

If you are able to get the price into your acceptable budget/range, prepare to have the car inspected; but if the price is not in your range, be prepared to walk away and/or move to another vehicle that fits your parameters.
Close the deal Now that you have negotiated the price and have the benefit of an inspection, you should either close the deal and/or negotiate further based on information learned in the inspection. If you learned things in the inspection that may allow you to negotiate a better price, you should be specific in discussing those issues as well as how much you expect the price to be reduced by. For example, if the inspection identifies that a new set of tires are needed and tires cost $500, then disclose that and negotiate accordingly, leaving yourself room.
If after all negotiations, you cannot go any higher than you already offered, walk away and leave your phone number and have them call you if they change their minds.
One last way to close the deal (on new cars) is by getting dealerships to compete. Tell them the offer you have from another dealership on the same car and they may feel pressure to lower the price and make the sale.
Total purchase price: Make sure when you are bargaining that you understand whether there are any other fees or charges to be added to the final purchase price. Be very specific in asking this question. For instance, dealerships may have products such as GAP, Warranty and Credit Life Insurance, that they try to sell you. It's important to remember, these useful products can also be purchased from FCCU and generally at a much lower price so be sure to ask your loan officer about them first.
FCCU has great low auto and rec loan rates right now as low as 1.99% APR*. If you're looking at a new car, now is the time and hopefully these tips will help you save a few dollars, while getting your dream car, too.