View all posts
Be positive, Do positive.
04/06/2020
By: Amie Aesoph, HR Project Coordinator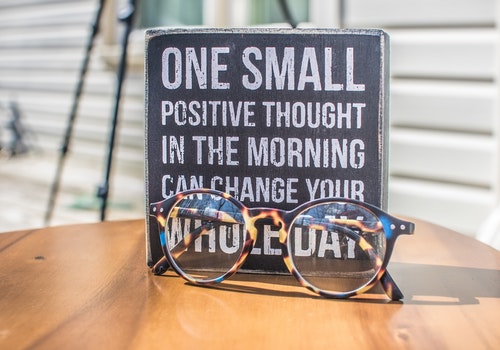 A positive attitude gives you power over your circumstances instead of the circumstances having power over you. ~ Joyce Meyer
Today is a new day and each day after this, you have the opportunity to be better than you were the day before during this difficult time. We are no doubt surrounded by uncertainty and struggling to understand the "why" behind it all. However, we can treat this situation like stumbling blocks or we can tackle COVID-19 challenges as stepping stones to the best tomorrow.

As you are starting your day, you may feel overwhelmed and stressed. You may be worried about your family, friends and co-workers. You may be trying to tackle online learning with your children, wondering if it's safe to go to the grocery store and unsure of when life will just get back to normal. These feelings are typical but also can become gigantic stumbling blocks. Please note, stress can damage immunity while being positive can increase resistance.

Be Positive.
Our minds work at a very fast pace and function on automatic most of the time. We are so used to going from one thing to the next in high gear. During this time, we need to focus on changing into low gear. The slow down starts with gratefulness. You've heard this recommendation before, and now more than ever is the time to focus on what really matters. Take 5 minutes every morning to write down one thing you are grateful for, explain why and keep it on your mind throughout your day.
It is also important for us to acknowledge our feelings. We all have our own story right now. When we bottle up challenging situations, the problems usually grow and mutate into horrible worries and anxieties. Take this time to call a friend or family member that you can share your fears with so they can provide you with valuable feedback and a different perspective. Acknowledge that you can't control COVID-19, but you can control looking at the situation in a different light. Focus on what you can control, like your self-care, your words, actions and decisions.

Do Positive.
Keep in mind, physical distancing shouldn't translate to unhealthy time on social media. There are so many activities that we can do to do to make an impact for others who need us. Reach out to others and offer help. Physical distancing should provide the time to reinvest in and recreate social bonds. We know that when we give to others, it lifts our spirit and warms our heart. Consider giving blood, fostering a pet, donating to a charity in need or leaving a note on neighbor's door with an offer to help.

Be Positive. Do Positive.
Yes, there is fear. But that does not have to stop us from living. Yes, there is sickness. But, that does not control our soul. Yes, there is isolation. But, we don't have to be lonely. We choose how we are going to handle each day. We choose our attitude. We choose to look forward with grace. Take care of your mental health, enjoy the slowdown and acknowledge your feelings. Take on activities that allow you to help others and fill your heart.