View all posts
Fun Financial Literacy Resources for Youth
04/01/2020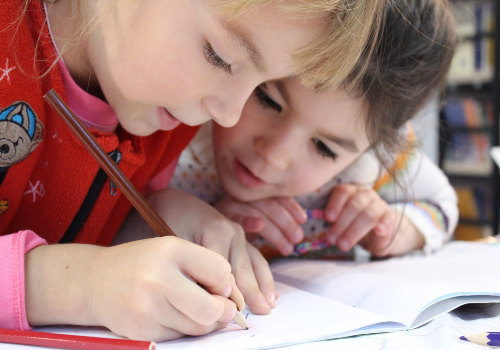 While April is National Credit Union Youth Month, it also seems to be a new month of learning for both parents and kids, as they adjust to E-learning from home due to COVID-19. There is no doubt widespread school closures not only in North Dakota and Minnesota, but across the nation has caused many parents to scramble to find ways to smoothly transition kids into at-home life.
So how do you keep your kids busy and still help them learn? First, make a routine. Kids are used to following a schedule, so making a layout for the day will help everything fall into place and keep your sanity. That's right, schedule their snack time, recess/play time, learning time, chores, etc. This will help keep sanity in your house.
Next, being home with your children is a great opportunity to use your time to teach your kids lessons to help them with life skills. Teaching your kids financial literacy, sewing, cooking or how to even change your car oil, are all great life skills and now's never been a better time to learn.
Here at FCCU, we want to help provide resources to help your kids stay busy, have fun and learn the importance of saving, all at the same time.
Pee Wee Penguin Youth Savers
This special program is for young FCCU savers, ages 0-12, enabling them to learn at a young age how to manage money and have fun doing it. Club members receive special Pee Wee Club items and also have access to fun online games and activities. Pee Wee and his friends, Kiwi and Sheldon are here to help your kids learn about money- how to spend it smartly and how to save it. To enroll your kid in our Pee Wee Penguin Youth Savers Club, contact your local branch. To access Pee Wee's fun money games, click here.


Biz Kid$
This national financial education initiative teaches kids about money and business. And, even better, Biz Kid$ is exclusively funded and branded by credit unions!
The overall objective of Biz Kid$ is to engage young people and help them develop life skills in the areas of money management and entrepreneurship. No matter what age, there are financial lessons to help your kids learn.
Even better, the first three seasons of Biz Kid$ videos are available for streaming on Amazon Prime!
Did we mention Biz Kid$ also has a program called "How to Turn $100 into $1 Million"? This program teaches kids essential money skills needed to survive in today's world.
Not all TV time has to be bad, and we hope these resources help provide some much-needed relief for parents with kids at home during this time! Click here to watch Biz Kid$.
Junior Achievement
Junior Achievement's entrepreneurship, financial literacy, and work readiness programs are delivered nationwide, typically in classrooms during the school day by volunteer role models from the local business community. In fact, many FCCU staff participate in Junior Achievement in their own communities.
During this time of COVID-19, Junior Achievement is offering free online learning programs for teachers and parents to keep children engaged, inspired and educationally challenged. These online resources range for ages K-12 with exercises children can do on their own or with a parent or adult. To access Junior Achievement's free online learning programs, click here. Visitors will be asked to complete a short registration form.


TheMint
TheMint is another great website that provides free resources for teachers, parents and kids about money management concepts. Whether you want games for your elementary kids, or tips about saving, tracking and investing for your teen, TheMint can keep children of all ages busy, all day. Visit TheMint here.
Money As You Grow the Bookshelf
This resource from the Consumer Financial Protection Bureau (CFPB) is a great way to help children ages 4 to 10 get the most out of reading time. This site allows you to browse through a list of books that you can find at your library, bookstore or online. You then can download the reading guide, which helps you explain key ideas covered in each book and also gives you questions to ask your child during reading time. Not to mention, this guide also offers fun activities once your child has completed the book. Books range from teaching a kid about how hobbies can become a way of earning money, to setting goals and saving money. Get your reading list here.
We hope this list of resources provides fun and hours of learning for you and your family.