View all posts
Security Tips for FCCU Members
07/30/2019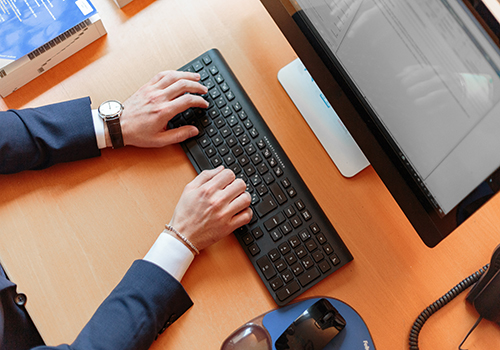 With technology at our fingertips, our accounts and personal information is easy for us to access. It's also very easy for fraudsters to access, as well. Here are few tips to be mindful of, to keep yourself and your personal information private.
Be Careful with Public Wi-Fi
When you're stuck in a waiting room or another boring place, your phone is probably your go-to source for entertainment. But make sure that you are very careful any time you use public Wi-Fi.
Don't use public Wi-Fi for anything that contains your personal information, like online banking or online shopping. Other people may be able to see what you are doing and steal your personal data. Wait until you're somewhere with secure Wi-Fi to do sensitive activities.
Stop and Think Before You Click a Link
If you get an email or a text message that contains a link, stop and think before you click on it. Phishing is a type of fraud that is designed to trick you into clicking a dangerous link.
If you click on a malicious link in a phishing email or text message, it can compromise your personal information and give criminals access to things like your passwords and credit card numbers. Always hover over a link and make sure you know what it is and that it's trustworthy. When in doubt, don't click!
Create Strong Passwords
It can be annoying to create and remember so many passwords. But it is much more annoying to deal with all the problems that come from having your identity stolen.
Use best practices when creating a password, like using a mix of lowercase letters, uppercase letters, numbers and special characters.
If you're forgetful of your passwords, put them in a safe space where you can easily look them up if you need. Don't have your passwords laying out on your desk or saved within an email, as those are easy places for people to find.
Finally, even if you have too many passwords already, NEVER repeat them.
Protect Your Personal Information
Another easy way to protect your personal information is by using electronic communication instead of paper when it comes to personal things like banking. Secure electronic communication can relieve the dangers of someone stealing your physical mail.
When you do get paper items, it is best to shred them when you are done with them to protect them from being stolen from your trash.
FCCU has easy, online banking and e-statements to help save paper and keep you safe. For a limited time, you can sign up for e-staments and get $5 and a chance to win an Apple iPad. Switching is easy! Just click 'Online Statements' within online banking and accept the disclosure.
We want all our members to keep their financial and personal information safe. If you have questions regarding this, please contact a local FCCU representative near you.