View all posts
FCCU Raises $7,500 for Veterans
01/05/2022
FCCU recently held fundraisers for our fourth quarter charity, veterans and military, raising $7,500. Of the total funds raised, $3,500 will be earmarked for the Giving Hearts Day match for the Veterans Honor Flight of ND/MN.

The Honor Flight is a non-profit organization created to give veterans the opportunity to visit the Washington D.C. memorials dedicated to honor their, and fellow veterans, service and sacrifice. Since 2007, more than 1,200 North Dakota and Minnesota heroes have been escorted to D.C. After a wait of almost two years, the next ND/MN chapter flight is scheduled for April 30th. A welcome home gathering at Hector Airport is being planned for May 2nd when the veterans return.

The remaining $4,000 of funds raised will go directly to North Dakota's Impact Foundation 'Support Our Veterans Fund.' The fund was established to help provide resources for emergency needs of ND veterans. Needs may include dental care, vision, hearing, housing, transportation for medical treatment and other special needs as approved. 100% of donations go directly to help veterans.
From October through December, FCCU staff held a variety of fundraising events and activities to show support for veterans including: an online pop-up t-shirt store fundraiser, raising just under $2,000, potlucks, dropping off treats for veterans at the Fargo VA hospital, selling World's Finest Chocolate bars, a thank you video to FCCU and community service men and women, a podcast with Honor Flight Veteran and FCCU member, and collecting toys for the Marine Toys for Tots Program, which helped over 200 local families and 512 kids.In addition to the donation, more than 350 letters were written by staff, members, students and people in our communities in a campaign called Operation Gratitude. They were sent to active and retired military as a token of appreciation to say thank you for their service.

A huge thank you to all our members who supported this amazing cause, along with our staff for the time, energy and hard work that went into making each fundraising event successful.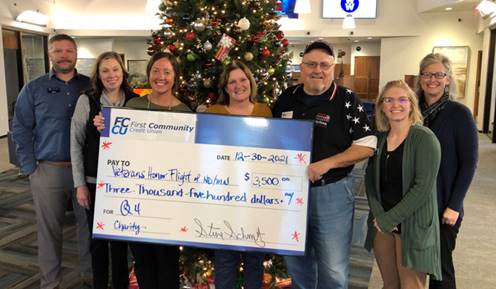 With FCCU staff is Jane Matejcek, Board President, and David Brunsvold, Board Member and veteran.