View all posts
FCCU Raises Record Donation of $10,000 for Veterans
08/09/2019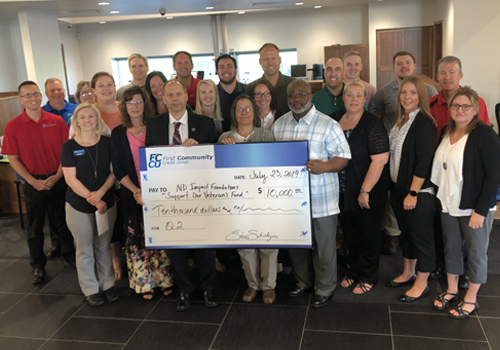 FCCU recently held fundraisers for our second quarter charity, veterans. More specifically, money raised went to North Dakota's Impact Foundation 'Support Our Veterans Fund.' Employees of FCCU choose a different organization each quarter to support by raising money and awareness.
Since April, FCCU staff raised a record donation of $10,000 for the organization and another $500 for Service Dogs for America. In addition to the funds, over 990 letters were written by staff, members and students in our communities in a campaign called Operation Gratitude. They were sent to active and retired military as a token of appreciation to say thank you for their service.

The check donation was presented in Fargo to Lonnie Wangen, Commissioner for the North Dakota Veterans Association, along with Michelle Morgenroth and Jerome Billups, two representatives from the North Dakota Impact Foundation who manage the Veterans fund.
"Listening to Lonnie talk about the Impact Foundation was truly moving," said Susan Long Swen, Event and Community Engagement Specialist. She continues, "This record donation proves together we can do great things for our FCCU communities."
The money raised by FCCU for this organization will go to help assist North Dakota veterans needing temporary help for short-term, urgent needs ranging from housing and transportation to medical and mental health issues that are not covered by other organizations. The donations from the Support Our Veterans Fund established in 2010 have helped over 125 North Dakota veterans.

Beyond our record-breaking silent auction and Jeans Fridays, FCCU staff and branches also held a variety of fundraising events including a chili cookoff, grab-and-go breakfast, grill-out lunch, bake sale, sold pink flags honoring servicemen and more.

A huge thank you to all our members who supported this amazing cause, along with our staff for the time, energy and hard work that went into making each fundraising event successful.